Broadway in Bryant Park is a free summer event where you can see performances of hits from the most popular Broadway musicals. This event represents both on- and off-Broadway shows and takes place on Thursdays from 12:30 until 13:30. You can hear hits from Chicago, SIX, and The Lion King, among others. The stage is on the Bryant Park Lawn, the large grassy area, in the centre of the park. If you're lucky and on time, you could get one of the famous green chairs. If not, you can just sit and relax on the grass. The event takes place around lunchtime, so grab something to eat and enjoy a leisurely lunch break during a day of sightseeing in New York!
2023 Programme
To be announced.
Eric's Tip:
"During the summer there's a lot to do in Bryant Park. If you don't have enough time during the day, maybe you can go and see one of the
free movies
at night. Bring something to eat and drink and enjoy a night out in the open air!"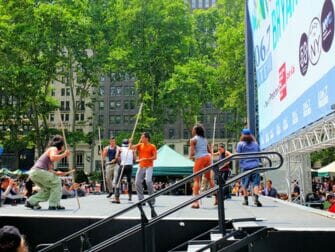 Did you find this article useful? Let me know!