COVID-19 test in New York for travel
A COVID-19 test in New York for travel can be done anywhere in the city. Both the PCR test and the antigen rapid test are available. There are tents and vans on the street where you can be tested for the coronavirus. These tents can be found in Times Square, next to Grand Central, at the 9/11 Memorial, or even down the street from your hotel. Sometimes you will find several test locations per street.
Where can I get tested for COVID-19 in New York?
You can get tested for corona everywhere in New York. On the street, you will find tents where you can have an official COVID-19 test done. Always ask whether the results of the test can be sent by e-mail or as a letter. Some companies give the result verbally. It is necessary to have an official test result before your flight.
Most test sites offer both PCR and antigen testing. When you arrive at the tent, you scan a QR code, which you use to register. After registering, the test is administered and you will often receive the result within 12 to 36 hours. With an antigen test, you usually get the result within 15 to 45 minutes.
In addition to the street test locations, you can also go to CityMD. This is a doctor's office with many locations in New York. You can also have a PCR or antigen test done here. They will send the result of the antigen test by email. For the results of the PCR test, you must return back to the location to collect it on paper. Several hospitals also offer COVID-19 tests, but this is less accessible for tourists.
Eric's Tip: Always ask in advance if you can do the test without US health insurance and how much the test is going to cost. The cheapest I could find was CTS Mobile Testing on Times Square with $50 for a rapid test and $100 for a PCR test.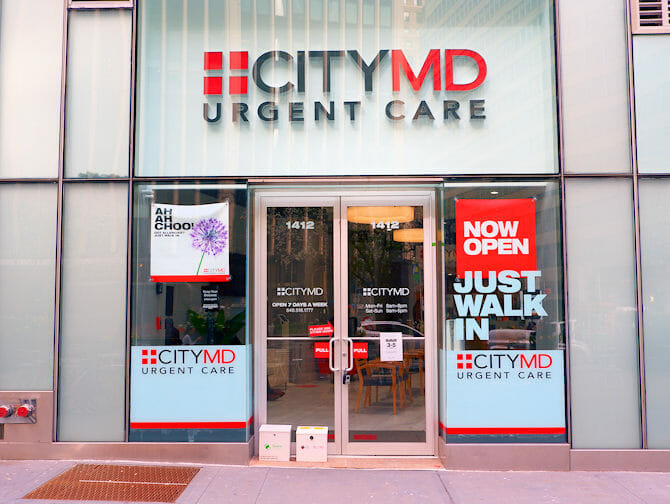 What test is needed to fly?
In general, a PCR test should not be older than 48 hours. A maximum of 24 hours applies for an antigen test. Look here for current information on which test you need for your return flight to Canada. Always check whether the airline you are traveling with has requirements for the type of test.
When should I get tested?
Don't wait until the last minute to get tested. There is a chance that you will not receive the results in time for your flight and therefore will not be allowed to board. That's why I recommend getting tested early enough so that if there are any unforeseen issues, you can always still take another test. It is also possible that the test location is lower in staff on that day or it may be busier than usual, in which case it may take longer to get your results. If you can, I recommend doing an antigen test. The result comes in faster than with a PCR test.
When you are in New York and you see a test location near your hotel, go there a few days before your departure. Ask them if they can send the test results by email, what type of tests they do, approximately how long test results will take, whether there are any costs and when they will be at that location. Things can change, for example, the test location you had seen may suddenly be closed or be at a different location. Make sure to inform yourself in advance so you can enjoy New York worry-free.
Testing at JFK Airport
Anyone 4 years and older can get a COVID-19 test done at JFK Airport. There is a test location in Terminal 8 where you can go by taking the JFK AirTrain. However, I do not recommend getting tested there. This test location is often very busy and it takes a long time before all forms are completed and the test is administered. As a result, it is possible that the result will not arrive on time. That's why I recommend testing in the city.
Note: you can also have a coronavirus test at other terminals, such as Terminal 1 and 4, but these can easily cost between $175 and $250.
You might also be interested in: 
Where can I get tested for COVID-19 in New York?
You can get tested for COVID-19 anywhere in New York. Read more here.