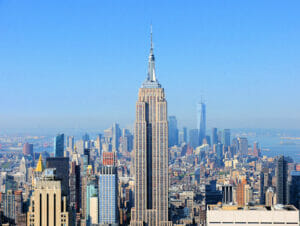 Buying your Empire State Building tickets before you go to New York saves you time. The Empire State Building is one the most famous buildings in New York, and with valid reason: from the 86th floor you have an incredible view of the city. If it's your first time in New York, then this should definitely be on your to-do list! You can choose between regular tickets and express tickets. You can also buy a discount pass (see below) for free entrance.
Buy your tickets here for the Empire State Building
Eric's Tip: "After ordering your tickets you will receive a QR code that you can print out or show on your phone at the entrance of the Empire State Building. The entrance is located at 20 West 34th Street. You can go straight in during your selected time slot, skipping the ticket booth."
When should I visit the Empire State Building?
You can visit the Empire State Building 365 days a year, rain or shine. It's open from 10:00 till 22:00 but the last elevator goes up at 21:15. When buying your tickets, you'll need to select your time slot. When visiting make sure you're on time and present your voucher. Since everyone selects their time slots, the waiting time will be limited.
What is better than visiting the Empire State Building? Visiting the Empire State Building twice! Visit the 86th-floor observation deck before 19:59 and return for a second time on the same day after 20:00. with discounted day and night tickets. This gives you the opportunity to admire the view both by daylight and at night, with all the sparkling lights of the city around you.
Buy the Empire State Building Day and Night Admission Tickets here
Do you have a New York CityPASS? Then both visits are included in the pass.
If I buy tickets online, can I come when I want?
No. If you buy your tickets online, you can only visit the Empire State Building during your booked time slot. When buying your tickets, enter the date and time you would like to visit the Empire State Building. Make sure to show up at your selected time, and present the voucher.
There is also an option to buy an Express Ticket that allows you to skip the line. With this ticket, you'll have privileges at the ticket and security line but it's more expensive. I would pick this option if you don't have a lot of time and want quick and easy access to the Empire State Building. Especially during the busier periods, in April, May, November, December, and during the Summer months, it is worth buying the Express Ticket.
Buy your Skip the Line Express tickets for the Empire State Building here
Empire State Building's 102nd Floor
Did you know the Empire State Building has a Top Deck observatory? 102 floors above the streets of Manhattan there is an exclusive floor, from where you can see all of New York at a glance and enjoy spectacular 360-degree views through floor-to-ceiling windows. Only a few people a day get access to the tip of the Empire State Building, which makes it an exclusive experience.
Book a ticket including access to the 86th and 102nd floor
Unique: VIP Sunrise Experience
A unique experience at the Empire State Building is to visit at sunrise before the doors are open to the general public. In the early morning, you take the lift up to the observation deck on the 86th floor and see the sunrise up over New York. This special experience is only available for a maximum of 100 people per day and only on specific days. So book well in advance!
Buy your Empire State Building Sunrise tickets here
Can I use a discount pass for the Empire State Building?
Yes. If you buy a New York Pass, an Explorer Pass, a Sightseeing Flex Pass, or a New York CityPASS you will be able to visit the Empire State Building. You don't need to go on a specific date, but you do need to reserve a time slot to go up the tower. On most days you can book up to a day before. Your pass does need to be valid, of course.
The Empire State Building is great to visit at night, the Top of the Rock a little less as Central Park is not illuminated. If you have a New York CityPASS or the exclusive day and night admission tickets, you can visit the Empire State Building once during the day and also come back at night. Single tickets don't have this option!
What are the Empire State Building Lights?
The Empire State Building has LED floodlights that can illuminate the building with 16 million colour combinations. The tower's lights are changed to reflect the various events and holidays throughout the year. On a regular day, you'll see the Empire State Building's signature white lights. On Independence Day, the tower is red white and blue. Because of these lights, each experience of the Empire State Building at night is unique.
Eric's Tip:
"I personally think that the
Summit
is nicer, but if it's your very first time in New York then Empire State Building is a must. If you plan on seeing a number of attractions, then get a discount pass as it'll save money and time. Before heading outside to the observation deck, you will pass through different exhibits and fun experiences. This is good to keep in mind when planning your visit."
Practical Information
Location: the main entrance is on 34th Street between Fifth and 6th Avenue
Opening hours: from 10:00 to 23:00

The last elevator goes up 45 minutes before closing time
How much does it cost to go to the top of the Empire State Building?
You can either visit the 86th floor of the Empire State Building or the 102nd. Prices start at CA $67. However, a
discount pass
might be better value for money for you.
Did you find this article useful? Let me know!