One Vanderbilt The Summit Tickets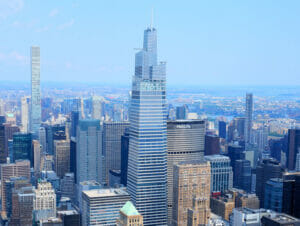 The Summit at One Vanderbilt tickets will be available online. This observation deck in New York is located in the One Vanderbilt skyscraper in Midtown Manhattan, next to the Grand Central Terminal. The viewpoint is at an altitude of 1100 feet (335 meters). Because of the unique location, The Summit offers great views of the Empire State Building, Chrysler Building, Bryant Park and Times Square. The views are unlike any of the other observation deck views in New York.
The opening of The Summit One Vanderbilt Observation Deck is planned for late 2021.
Tickets are not available yet.
Would you like to receive a notification as soon as the tickets are available? Send me a message at [email protected] and I'll let you know when the tickets go on sale!
Observation Deck at Grand Central
One Vanderbilt is on the corner of 42nd Street and Vanderbilt Avenue, opposite Grand Central. The One Vanderbilt observation deck covers the 57th, 58th and 59th floor of the impressive skyscraper. It has two glass-floored overhangs that offer great views of Madison Avenue. There is also an 'infinity room' with high ceilings, and an outdoor terrace with food and beverage options. One Vanderbilt is also home to many offices, shops and even a space for cultural projects.
Eric's Tip: The Summit is relatively close to the Empire State Building. It offers a great, up close view of this New York icon, that I was very surprised about. You can enter and exit the building via a new hallway at Grand Central, where an impressive entrance is built.
Do you want to visit another observation deck in the meantime? Then buy Empire State Building tickets, Top of the Rock tickets, One World Observatory tickets or Edge Observation Deck tickets.
Did you find this article useful? Let me know!