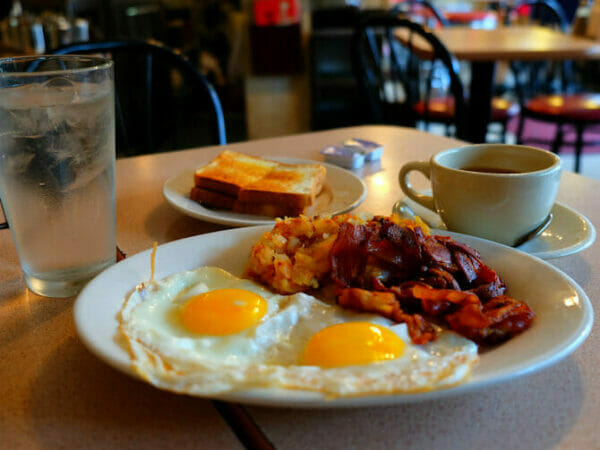 Looking for breakfast in New York? Most local New Yorkers eat breakfast on the go, between the subway and the office. There are countless carts where lots of different types of food are sold. Going for coffee? Always order your coffee without milk! Otherwise, you'll be served a cup with low-fat milk, which is very watery and renders your coffee tasteless. When ordering from one of these carts, beware that they can be quite impatient, they hate it when customers take too long to order. I think it's much nicer to eat in a diner if you have the time. New York diners can be found all over the city and I recommend eating at one at least once during your trip, for the ultimate American experience.
Breakfast in Diners
Breakfast in diners is cheap: You can get two eggs, toast, potatoes, bacon, coffee, and juice for around US$8 or $9. Tipping is important when eating in a diner, I recommend that you give about twice the amount of the tax (found on the receipt). A normal tip is about 15% to 20% of the total bill, before tax. Check your receipt to make sure that the tip has been included.
Eric's tip: This is how a real New Yorker orders breakfast: "Two eggs sunny side up, white toast, bacon, coffee, and a small OJ". Sunnyside up is a fried egg. At diners, you always just pay for one cup of coffee (even if you order the breakfast special at US$4.50!). Then you get unlimited refills, however, with tea, you just get more hot water, so make sure you keep your teabag.
Ellen's Stardust Diner
If you're looking for something unique, go to Ellen's Stardust Diner on Broadway and 51st Street (near Times Square). The special feature of this restaurant is that all of the waiting staff sing. Which also makes for a free Broadway show! Most of the waiters and waitresses leave after just a few months in order to perform in real musicals in New York, so this diner is just a stepping stone for them.
The best time to arrive at Ellen's is around 08:00. After that, it will be very busy. They usually start singing around 08:00. Breakfast at Ellen's Stardust Diner is more expensive than your regular diner.
Westway Diner
Westway Diner was established in 1988 and is open daily from 8:30 to 21:00. It's a typical diner: the food is simple and served very quickly. You really have to know what you want to order before you order as the waiting staff are always in a rush. Don't order a la carte at this place, go for a 'menu' that includes coffee and orange juice instead, it's much cheaper. You can only order these menus between Monday and Friday though.
Hector's Cafe & Diner
Hector's Cafe & Diner (1949) is one of the last real 'old school' diners in New York. It's an oasis in the hip and touristic Meatpacking District. Hector's is raw, ugly and cheap. Something that's hard to find in Meatpacking these days. Martin Scorsese used Hector's as a set for Taxi Driver and they've also filmed at Hector's for the tv-series Law & Order. Go visit Hector's to feel like the meat processors, drug addicts and dealers that claimed this area for ages. Choose Hector's instead of the nearby Bubby's, because Hector's hasn't been created for tourists. Or actually, don't go to Hector's! Let Hector's remain the raw diamond of the city.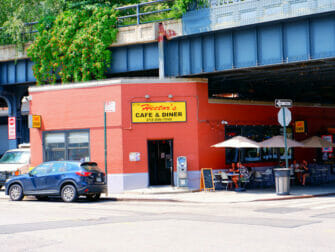 La Bonbonniere
This West Village diner is, contrary to what the name might suggest, truly New York. In accordance with American custom, you can have breakfast here cheaply and quickly. There are a few tables outside, so you can take a seat there when the weather is nice. But there is also plenty of room inside to enjoy the tasty pancakes, burgers and sandwiches that are on the menu.
Brooklyn Diner on Times Square
Is your hotel located on Times Square or do you want to have breakfast here, the Brooklyn Diner is a fun place to start your day. In this iconic American diner, you can enjoy one of the items on the crafted menu, a family-style polenta, juice, and unlimited tea or coffee. This prix fixe breakfast deal also includes taxes and gratuities!
Book your breakfast at Brooklyn Diner on Times Square here
Tom's Restaurant
Tom's Restaurant is a family-owned diner that has been open since the 1940s and is located in Morningside Heights. A lot of locals come to dine here, and here and there you'll spot a Seinfeld fan as it was the diner that was featured in the show, Seinfeld. That's also pretty much the only reason I like to go to this diner. Order one of the classic menu items, especially the sausages are good here.
La Parisienne
La Parisienne is a cosy restaurant in the French style. It's located in the Financial District and therefore a great spot to have breakfast when you stay in Lower Manhattan. They open daily at 8.00, so you can start your day with for example avocado toast, a croissant or yoghurt. You can also come here for a lovely Parisian lunch or happy hour.
Buvette in Greenwich Village
Are you looking for a nice place in Greenwich Village? Then go to Buvette. A small, bustling, Parisian-style bistro. The staff works hard and has a passion for good food and French wines. I often order an espresso with a croissant and sit at the bar. In the tiny kitchen, they prepare typical French dishes. This bistro is a fine spot for a tasty breakfast or brunch. Choose waffles, toast with various toppings, a ham and cheese sandwich or a salad with a freshly squeezed juice on the side. If you prefer to sit outside, there is also a little garden. Buvette is open from early morning until late at night.
Eric's Tip: This is a nice bistro for breakfast or brunch. But note: it's small and often busy too. Since you can't make reservations, you might have to wait before you'll get a spot. If you're there anyway, do visit the toilet to test the deliciously scented hand soap!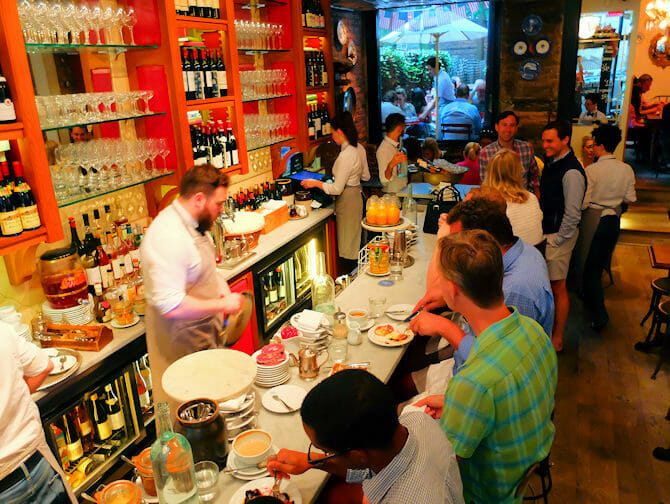 Gemma at The Bowery Hotel
In East Village, Lower Manhattan you can find the Bowery Hotel with its Italian restaurant: Gemma. Even though celebrity sightings are commonplace at Gemma, you can still eat breakfast here for a relatively low price. Start off your day with the 'two eggs any style' and for a few extra bucks you can even add bacon. If you have more of a sweet tooth, go for the pancakes or french toast.