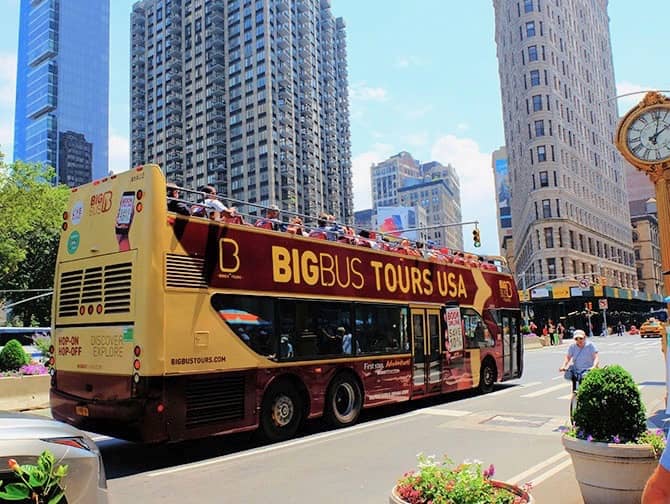 The Hop on Hop off bus in New York is a good way to explore the city. These buses, also called sightseeing bus tours or HOHO buses, drive through Manhattan and Brooklyn. They stop regularly at various points of interest where you can choose to either hop on or hop off. A perfect option for those who visit New York for the first time!
Which Hop on Hop off bus should I take?
Since there are several Hop on Hop off bus providers in New York, I've narrowed it down to a selection of a few interesting options for you. If you're looking for more detailed information, please continue reading below:
Option 1: If you want to make use of the Hop on Hop off bus for 1 day, this option is great value for money. It allows you 2 loops during 1 day whereas other providers only offer 1 route for this ticket type.
More information on this 1 day ticket
Option 2: Do you want to explore the city, visit the Empire State Building and take a cruise to the Statue of Liberty? Then this is the most interesting option for you:
More information on this package
Option 3: This package offers a Hop on Hop off bus ticket that is valid for 72 hours. You can explore Manhattan during the day, but also in the evening on the Night Tour. You can also discover Brooklyn when taking the Brooklyn tour. A cruise, bike rental in Central Park, and admission to the Museum of the City of New York are also included.
More information on this 72-hour ticket
How does the Hop on Hop off bus work?
You can find Hop on Hop off buses more and more in popular cities. These double-decker buses drive past the main attractions in the city and stop regularly at various stops along the routes. You can decide if you want to hop off to explore the neighbourhood or stay on the bus. You are in control.
During the ride, follow the audio commentary to get to know the attractions you pass by. In all buses you can make use of free earphones, but you can of course also use your own headset.
All providers offer a variety of routes (or loops). Depending on the ticket you purchase, you can do one or multiple loops.
Where can I buy tickets?
Online. You can buy tickets for the Hop on Hop off bus that are valid for a certain period of time. Your ticket will be activated when you board the bus for the first time. Pay attention to whether you have a day ticket which is only valid for the same day use (1-day ticket) or a ticket valid for a certain amount of hours, usually 24, 48 or 72 hours. With such tickets, if you first use the bus at 10:00 in the morning, your ticket will be valid until 10:00 a.m. the next day (or the day after, depending on your ticket).
The amount of hours is always consecutive. If you buy a 72-hour ticket, this ticket is valid for 72 hours from the moment it is activated. For instance, it's not possible to make use of your ticket for 24 hours, then not use it for a couple of days and hop on the bus again during the last 48 hours of your trip.
Eric's Tip: The Hop on Hop off buses aren't very suitable to use as a transport means, but they're perfect for sightseeing. The buses drive quite slowly and sometimes get stuck in traffic. That's why I recommend making use of these buses particularly during the first day(s) of your trip to New York. If you're not sure about the number of days, I'd suggest you purchase a 2-day ticket that will allow you to do several loops.
How many loops are there?
There are different providers that have their own loops and stops. The providers offer the following routes:
Downtown Loop (2 hours)
Uptown Loop (2 hours)
Brooklyn Loop (2 hours)
Night Loop (2 hours)
Which providers can I choose from?
There are several Hop on Hop off bus providers in New York. There are some differences in the routes and tickets they offer. If you're unsure which provider you should choose, here's my recommendation:
Big Bus
Big Bus in New York is my favourite Hop on Hop off bus provider. They have the nicest buses that are often less crowded than buses of other providers. Another good reason to choose Big Bus is the fact that their 1-day ticket allows you to do the Uptown and Downtown loops, whereas other providers only allow you to take the Downtown loop with the same ticket.
Eric's Tip: As a New Yorker, I didn't think much of these buses until I bought a ticket for my website. I have to admit that I saw the city from a different perspective. Sitting on the roof of the bus and listening to the guide is nice and very relaxing for people visiting New York for the first time.
And what about the other providers?
There are indeed other Hop on Hop off bus providers than the ones I've mentioned above. When you're in Manhattan, you'll probably see double-decker buses of other organisations too. The reason why I don't recommend these bus tours is that I've either had a bad experience with them or because their offer is not as good as the options mentioned above.
Which is the best tour bus in NYC?
There are several Hop on Hop off bus providers in New York. I have tested them all and selected the best options.
What is a hop on hop off tour in New York?
A hop on hop off bus is a double-decker sightseeing bus that drives through Manhattan and Brooklyn. There are many providers and it can sometimes be tricky to pick the best one.
Did you find this article useful? Let me know!