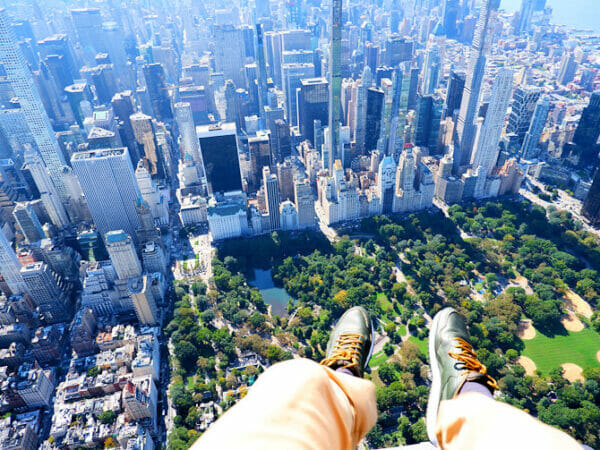 The No Door Helicopter Tour in New York is a unique way to see the city. During this flight by FlyNYON you can take some really impressive photos of Manhattan. If you are looking for an unforgettable experience, an adrenaline rush or if you have a special occasion to celebrate in New York, this helicopter flight is the ultimate activity. The helicopter doesn't have any windows or doors, so you can literally dangle your legs over the city, if you dare, of course! Taking aerial photos of Manhattan is fantastic with this flight because there are no obstructions or window reflections. This is the best helicopter tour in New York for budding photographers and for anyone who is looking for that extra something special.
Book the no door helicopter tour here
If the tour above is unavailable, you can book this no door helicopter flight
Because of
COVID-19
this attraction has extra safety measures:
✔️ face mask required
✔️ hand sanitizer available
✔️ limited capacity
✔️ reservation required
Low priced FlyNYON Helicopter Flight
From the air, you have an amazing view over New York. It is a fantastic opportunity to get a bird's-eye view of the skyscrapers, Brooklyn Bridge and the Statue of Liberty. This flight is approximately 15 minutes and will show you all of the highlights of Downtown Manhattan. In addition, without the doors, there is nothing to obscure your view. It even gives you the opportunity to make a great 'shoe selfie' with the Statue of Liberty literally at your feet! It is possible to secure all cameras, telephones and other loose objects with a cable, so don't worry about dropping anything. The departure airport is located in New Jersey, a short drive away.
Eric's Tip:
I have experienced quite a few regular
helicopter tours in New York
, so was very curious about this one. I loved it! It's a whole different experience to the standard flights. Definitely an activity for 'daredevils', photographers or people who, just like me, have experienced the normal helicopter flights and want to try something a bit different. And this flight is even cheaper than most regular helicopter flights!
Practical Information
After booking you will receive a voucher by email, you can print this out or show it on your mobile phone as your ticket for the tour.
Duration: 15 minutes
Departure point: Kerney, New Jersey heliport
Departure time: daily, including Sundays, between 9:00 a.m. and 10:00 p.m.

Age restrictions: The minimum age for an open door seat is 12. Those under the age of 18 require parental consent.

Book the no door helicopter tour here
If the tour above is unavailable, you can book this no door helicopter flight
Extra-long no doors helicopter flight
If you think 15 minutes is too short, for example, if you're a photographer and really want to take your time to take some nice aerial shots, then there's another option for you. This flight takes approx. 30 minutes, offering you a great opportunity to photograph all of Manhattan from the air.
Book the Extra-long no doors helicopter flight here