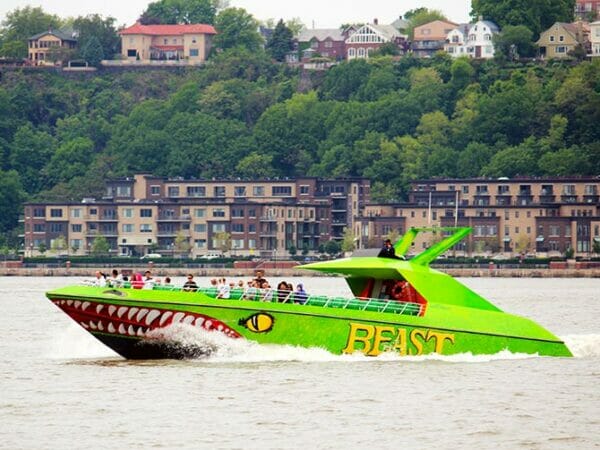 Circle Line: The Beast is perfect for thrill-seekers. It's loud, extremely fast and, above all a lot of fun. Racing across the water at 45 mph, the Beast is a mix between a water ride, a roller coaster and a high-speed cruise. In 30 minutes the comedic captains "Mad Dog" and "Wild Thing" will zip you to the Statue of Liberty and you'll breeze past Manhattan's West Side. Don't worry, you do have ample opportunity to snap a photograph… or two.
Book your tickets for the Beast Speedboat tour here
Entertainment on Board
Make sure you don't wear a hat and hold on to your sunglasses because the captains don't appreciate you giving them the finger if you lose them! The entire time the captains will be cracking (sarcastic) jokes to entertain you and you might even get sprayed with a water gun. You're guaranteed to get wet if you sit at the stern of the boat, so don't wear Sunday's best.
Kids are welcome but they need to be at least 100 cm to enjoy the ride. In the summer it's a great way to cool down, feel the thrill and speed of Manhattan, and be entertained with the humour Americans are well known for. Be sure to pack on lots of sunscreen as there is no cover on the boat, and despite the refreshing breeze, you can easily get sunburnt on the water.
Erics Tip: This boat tour can be compared to a log flume at a theme park. Water does tend to splash a bit inside the boat during the tour. This can actually be quite refreshing during the summer months in the hot city!
Practical Information
You can either buy tickets for a specific departure time or a flexible admission time. After purchasing you'll receive a voucher. Pick up your ticket at the ticket window by showing your voucher. I recommend exchanging the voucher as early in the day as possible, or even the day before, so you can be sure of availability.
Duration: 30 minutes
Departure point: Pier 83
Departure Times:

January 1st – May 26th: The Beast doesn't ride
May 27th – September 26th: daily every hour from 10:00 to 18:00
September 27th – December 31st: The Beast doesn't ride

You must be at least 40″ (1m) tall to ride the Beast
The tour does not operate in rain
Book your tickets for the Beast Speedboat tour here
Tip: buy the New York CityPASS for free entrance
Circle Line: The Beast Route
Did you find this article useful? Let me know!