Discover New York's hidden bar scene (speakeasy bars) on the Prohibition Era Bar Experience tour. This special tour will take you to four clandestine watering holes in Manhattan! Prohibition was an attempt to forbid the possession and drinking of alcohol in America in the 1920s. But, as you know, "every law has a loophole", and this one is no exception.  A lot of clandestine bars opened all around America during this period, and some of them are still waiting for you in New York with the same forbidden atmosphere. But they are not always easy to find on your own!
Book below using the hidden code "Eric" and enjoy a 10% discount
Book your tickets for the hidden (speakeasy) bar tour in New York here
Visit a New York Speakeasy
You can still visit a New York speakeasy and be transported back to the 1920s. These bars don't accept reservations, they are pretty exclusive and difficult to find, as they are hidden in the most unexpected places. That is why I recommend you to join the Prohibition Era Bar Experience tour. The Tour is led by a local guide who will also talk about New York's neighbourhoods and prohibition era. You'll get easy access to four locations (including the oldest bar in New York) and three drinks and a snack are included.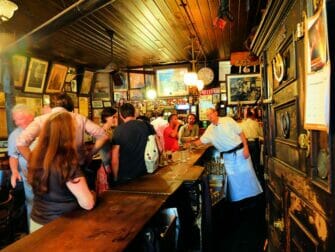 The Roaring Twenties
After the First World War came to the roaring twenties. America was experiencing prosperous times and people were asking for freedom and fun, nightclubs became the centre of social life. Then Prohibition arrived and put a ban on the sale, production and transportation of alcoholic beverages. But, instead of becoming a positive law, it caused corruption and violence; the famous times of Lucky Luciano and Al Capone. A lot of hidden places to drink opened all around the US and alcohol consumption doubled.
In New York, these hidden bars were named "speakeasies", because you spoke quietly about them or when inside, so as not to alert the police or neighbours. Prohibition ended in 1933, but the speakeasies never died. Or their legacy, at least. Cocktails were born during the Prohibition, as the result of mixing the alcohol distilled at home with fruit juices, to cover up the flavour. And, who could imagine a fancy night out without a cocktail nowadays?
Eric's Tip: I have been to a lot of bars in New York, but there were a few places that I visited with this tour for the first time. They are bars that, due to their inconspicuous and modest entrance, you wouldn't necessarily go to. This tour is, therefore perfect to discover these places so you can go back again and again.
Practical info
Departure point: Lower East Side
Departure time: Mondays and Wednesdays at 7:00 p.m.
Duration: 3 hours (approx.)
Dress Code: Casual wear but no sneakers or baggy jeans
Minimum age is 21 years. You will need to show a valid photo ID
Book below and get 10% discount with the code "Eric"
Buy here tickets for the hidden (speakeasy) bar tour in New York here