Hudson Yards in New York is Manhattan's latest neighbourhood. Hudson Yards is located at High Line Park, on the West Side of Midtown Manhattan. On the North and South Side, the neighbourhood is bordered by 30th to 43rd Street and on the West and East Side by the West Side Highway and Eighth Avenue. Most of the sights in Hudson Yards, however, are located in a smaller area that only covers a few blocks. Hudson Yards mainly consists of skyscrapers, which are partly used as residential accommodation and partly as office space. Several city parks have been created between the buildings. Additionally, various sights have been built that are worth a visit! If you want to travel there by subway you can take line 7. This will stop at the only subway station in the district: 34th Street – Hudson Yards Subway Station.
Hudson Yards Vessel
The Vessel is a true eye-catcher, a structure consisting of 154 stairs and 80 platforms that resemble a beehive. It is located in the heart of Hudson Yards and you can order the Hudson Yards Vessel tickets through my website. Ever since the official opening, Vessel has become a popular attraction and captivates thousands of visitors each day. The building is surrounded by Public Square and Gardens. Would you like to take a break after climbing the many stairs? Find yourself a bench in this city park and enjoy the hustle and bustle of Hudson Yards.
Edge Observation Deck
Edge Observation Deck is an impressive observation deck located on the 100th floor of the skyscraper 30 Hudson Yards. Edge Observation Deck is an open-air platform that protrudes from the building at a height of 335 metres, where visitors have an entirely new view of Manhattan. You will be amazed by the views that the slightly tilted windows and the partly transparent floor offer.
The Shops & Restaurants at Hudson Yards
At The Shops & Restaurants at Hudson Yards shopaholics can indulge themselves in some retail therapy! This shopping mall is located between 10 Hudson Yards, 30 Hudson Yards and Vessel and has 7 floors with shops and eateries. The Shops & Restaurants at Hudson Yards have a luxurious aesthetic, but there are also high street brands like H&M, UNIQLO and the Banana Republic.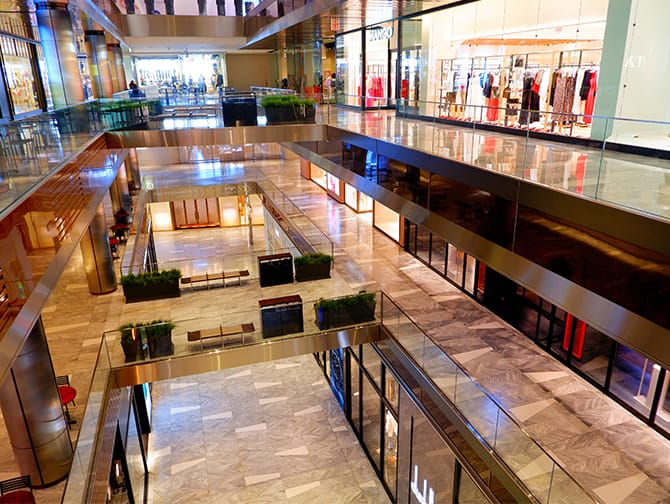 Mercado Little Spain
Once you have visited all the sights and shops in Hudson Yards, you will probably need a break. Mercado Little Spain is the perfect place for this. At this covered Spanish market with all kinds of different eateries, you will find dishes and snacks like tortillas, empanadas and a selection of Spanish hams and cheeses.
The Shed
The Shed is also an impressive building in Hudson Yards. The Shed can best be described as a cultural centre. It says it offers a stage for original art from all disciplines, for all kinds of people. For example, they organize exhibitions as well as various shows and films that you can go and see. The Shed's roof can be moved so that the shape of the building can be adjusted to the program.
Snark Park
Snark Park consists of two parts: one part is a store where you can buy merchandise and ice creams, the other part is where most of the action takes place. Here you will find installations where you can walk through, for example, a maze of concrete pillars. These installations are replaced three times per year, so there is always something new to see.
Eric's Tip: I am really excited about Hudson Yards. It offers all kinds of different sights and activities, all situated close together. If you have been to New York before and have already visited all the famous places, Hudson Yards is especially worth checking out as the new hotspot. Thanks to the varying offers available, there is something for everyone.
Hotels in Hudson Yards
Hudson Yards is a relatively small neighbourhood, with many office buildings. There are therefore few accommodation options. But there is one hotel in Hudson Yards where you can fully immerse yourself in luxury: Equinox Hotel New York. Here you will not stay under five hundred euros per night, but then you also get ultimate comfort, including filtered air and organic mattresses.
Did you find this article useful? Let me know!