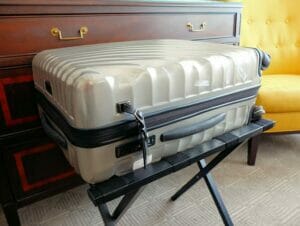 Luggage storage in New York can be found at various locations in Manhattan. Are you passing through and want to do some sightseeing without having to bring your bags? Or did you rent an apartment that you have to check out of but you're not flying until later? Then there are various places in New York where you can temporarily leave your suitcase. There aren't any lockers for baggage at Grand Central Terminal or Port Authority, for example. However, there are alternatives. From just US$5.95 per day, you can store your luggage in Manhattan or a neighbouring area.
Book your luggage storage in New York here
Where can you leave your baggage?
Vertoeoffers a large selection of storage locations in Manhattan. They also have various branches in other neighbourhoods of the city and continue to expand their reach. You can choose to store your luggage close to Penn Station or Wall Street and in Greenwich Village or Hell's Kitchen. Also, there are even places to store your luggage in New Jersey and Brooklyn. All storage locations are monitored, so your cases are safely stored while you continue to enjoy everything New York has to offer.
How does it work?
Making use of luggage storage in New York is simple. On the website, search for a storage location in your desired area. In a few easy steps, you can then create an account and will receive a text or email with a link to your booking page. Use the booking page to start your storage timer, once you are at the storage location. You'll receive a security seal that you can use to securely lock up your bag. Collect your luggage whenever you want (but be aware of the closing time of the storage location!), and stop the timer on your booking page. Show the pickup confirmation, displayed on the booking page, to reclaim your bags. You pay for the number of days you have used, it couldn't be easier! The storage costs from $5.95 per piece of luggage per day. Insurance is included in this price.
Book your luggage storage in New York here
Where can I store my luggage in NYC?
You can store your luggage at various locations in Manhattan. Read more and book your luggage storage here.
Did you find this article useful? Let me know!