New Year's Eve Parties in New York

31-12-2023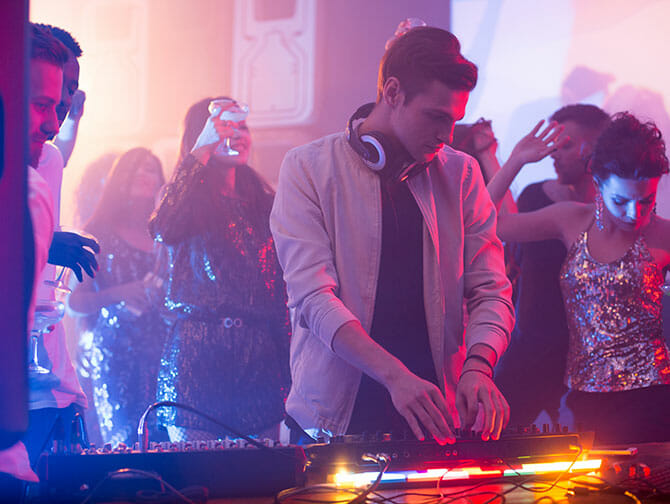 New Year's Eve parties in New York are abundant, but which ones are the best? On this website you can find a good overview of parties in New York. I selected the best parties from this extensive list and classified them into four categories: fancy, fun, families and youth (16-21). Most parties get started at 9:00 p.m. and continue until 02:00 a.m., although some of them continue until 03:00 a.m. Make sure you buy your tickets as early as possible, as prices can increase by US$10 or even $20 a day as the 31st of December approaches.
See this website for a complete overview of all parties and to buy your tickets.
Tickets for 2023 are not available yet
Would you like to receive an email as soon as the tickets are available? Send me a message at [email protected] and I'll email you on the day the tickets go on sale.
Ordering party tickets online
Celebrating New Year's Eve in New York is a marvellous experience, but it can also be an expensive one. Don't be surprised if you have to pay $200! However, it is possible to arrange something for less. You can buy tickets directly through the aforementioned website. The best thing to do is to make sure to buy your tickets well in advance. If you are celebrating New Year's Eve in New York without any plans, chances are you will be starting the new year highly disappointed. You can't just show up last minute; at least not without ending up paying double.
Note: Use Google Chrome if you run into any issues while booking.
New York's best New Year's Eve Celebrations
I have picked out my favourite New Year's Eve parties for this year. My number one is the party at the impressive Gansevoort Rooftop. This party, at a central New York location offers an open bar for three whole hours! Ring in the New Year in this beautiful venue.  Of course, there's also a rooftop party on my list. At Elsie Rooftop and 74Wythe you can sip your champagne whilst looking out over Manhattan. If you want to see the fireworks at Times Square, go to the party at 5 o'Clock Somewhere Bar.
Fancy
New York on New Year's Eve is a fantastic experience. Are you in the mood to turn this unique event into a truly extraordinary one? Head to one of many luxurious, hip and happening parties in the city. For example at Guastavino's, M Social or TAO Uptown, where you can toast to the new year in this unique restaurant. Get tickets for Nebula to ring in the New Year at one of the cities most popular clubs.
Fun
Don't want to go to an upscale, posh party but just looking to have a good time? Then go to White Horse Tavern or Tavern 29. In addition at Stone Street Tavern in Downtown, The Folly and Paris Cafe, you're in a great place for an evening of laughter, drinking and dancing with friends, old and new. Are you in the mood for a lot of music, head to Shake Rattle and Roll Dueling Pianos for a night of singing and dancing.
Families
Do you feel like it's going to have to be a private party in your hotel room, since you are celebrating New Year's Eve in New York with (young) children? This is most definitely possible, but not necessary! There are some great parties on offer for families. At Bowlero Times Square even the youngest children will be entertained with football tables and other games. And also Dave & Buster's is the perfect spot to welcome the new year as one big happy family! Play video games and dance to the DJ all night long! At Margaritaville, kids will be entertained with live music and other fun activities.
Youth (16-21)
In New York you can't toast to the new year with a glass of champagne if you're under 21 and for that reason you're not even allowed to enter most parties. Even so, there are a few good options for those in this "tough" age group. My choice would be: Dave & Buster's, Bowlero Times Square and Margaritaville.
Rooftop Parties
Ring in the new year with a memorable experience from one of New York City's rooftop bars! Celebrate the start of a new year with stunning views of the Manhattan skyline while you cheers to the new year. Head to 74Wythe in Williamsburg or go to 5 o'Clock Somewhere Bar. Alternatively, enjoy the festivities at Gansevoort Rooftop.
After Parties
Are you looking for a post midnight party? Maybe after seeing the fireworks from somewhere or enjoying a dinner cruise? Then buy a ticket for a New Year's Eve After Party. These tickets are quite a bit cheaper than regular party tickets and in some cases you can still enjoy the open bar. Celebrate the first hours of 2023 at, for example, Margaritaville. Or, get late admission tickets for PHD Terrace.
See this website for a complete overview of all parties and to buy your tickets.
The Times Square 'Ball Drop'
If you buy a ticket for a party on Times Square, don't expect to experience the famous 'ball drop' up close and personally. Most places do offer screens showing the whole countdown spectacle. If you do want to see it live on Times Square, you can go to a ball drop party.
Boat Tour to see Fireworks
If you'd like to see the fireworks, I advise you not to go to one of the above mentioned parties. You will stay inside more often than not during the night. Most places do have a smoking area, but you won't see anything spectacular from there; the fireworks are mainly displayed close to the Statue of Liberty. Would you like to have a splendid view of this? Book one of the New Year's Eve boat tours!
Did you find this article useful? Let me know!