New York markets can offer a more affordable option to grocery shopping which isn't always cheap. Due to this, a lot of New Yorkers often visit the different markets of the city. Not only because the products are often fresh and a lot cheaper but also as a means of relaxation. Visiting a market in New York is a great and free way to really enjoy the atmosphere and perhaps even taste the local products.
Union Square Greenmarket 
The Union Square Greenmarket is on Monday, Wednesday, Friday and Saturday on the North and East side of Union Square. Between 8 AM and 6 PM, you can find a large variety of fresh products from local farmers and producers. If you take the subway lines 4, 5, 6, N or R to 14th Street/Union Square, you can't miss the white tents under which the products are stalled. The market has a very organic atmosphere (some stalls even use solar panels) but don't expect to find only farmers here. Strikingly, the hip New Yorkers come here to do grocery shopping, to see and be seen. There are around 80 to 140 stalls on the market, most of which sell fruit and vegetables. The Union Square Greenmarket is also the perfect place for fresh bread and pastries. How about some apple/cinnamon muffins or a blueberry pie? The market is also known for its fine selection of flowers and plants and specific organic products like honey, maple syrup and lavender. Try and visit the market during the week, it can be very busy on a Saturday.
Eric's Tip: Visit the market, preferably on a weekday, on Saturdays, it is usually very busy.
Chelsea Market
Chelsea Market is a covered market in the Meatpacking District. The market is located in the former industrial site on 9th Avenue (between 15th and 16th Street, take subway line A, C, or E to 14th Street/8th Avenue). It is the perfect place for shopping but also to have a bite to eat. Head to Amy's Bread for delicious sandwiches, muffins and cupcakes. At Friedman's Lunch, you can sit at the high tables and enjoy real American comfort food such as burgers, chilli or macaroni and cheese. Chelsea Thai is a great address for a quick lunch where they prepare the food right in front of you. If you are not hungry, Chelsea Market is a great place for books, cooking utensils and Oriental trinkets.
Eric's Tip: Do you like sushi? You can also eat delicious sushi here!
Smorgasburg in Brooklyn
Smorgasburg is a hip food fair of Brooklyn Flea and very popular among locals and foodies. Smorgasburg is a foodie's dream come true: over 100 vendors selling and preparing food with international influences. Don't eat before you go there because you don't want to miss out on all the flavours. Here you'll find dishes like all-beef ramen burger, fried anchovies with smoked paprika aioli, peach chamomile honey popsicle, and a watermelon, eggplant and ricotta sandwiches. And if you can't get enough, you can always buy some delicious jams, mayonnaise and sauces to take home. The two summer locations of Smorgasburg are Williamsburg and Prospect Park in Brooklyn. In the winter the market is located at yearly changing location.
Eric's Tip: Smorgasburg has several locations but I personally like the atmosphere in Williamsburg Smorgasburg best.
Eataly
Eataly is an ode to the Italian kitchen. It was opened in 2010 by master chef Mario Batali. Since then, it's been busy every single day. Eataly is located on 200 Fifth Avenue (between 23rd and 24th Street, subway stop 23rd Street). In the building, you will find, among others, a market, espresso bars, a gelato shop, bars, a liquor store, a shop for cookbooks and cooking utensils, a cooking school and various restaurants. All this against a backdrop of white marble and snow-white walls. You can get anything in Eataly: from whole fish to fresh mozzarella and imported Parma ham. Also, the restaurants and bars offer a wide selection of Italian dishes, each specializing in different ingredients. Unfortunately, these dishes aren't cheap. A platter of a selection of different hams is available from US$11, and an accompanying glass of wine will set you back at least US$7. For bigger dishes or a bottle of wine, you'll have to empty your wallet. The best way to experience Eataly is to taste the espresso, order ice cream ( the top 10 of New York!) or have an afternoon drink.
Eric's Tip: Would you like to dine in one of the restaurants, then make sure you are on time (especially before half-past six in the evening). If you arrive later, you'll probably have to wait a few hours for a table.
Le District
Le District in Lower Manhattan, close to One World Observatory, could be considered as the French Eataly. Enjoy lovely French cheeses at Le Fromagerie, fresh bread at Le Boulangerie or macarons at Le Pâtisserie, to name a few of the options. With a cosy bar, several market stands offering French delicacies and three French restaurants it's the place to be if you're looking for refined food in New York.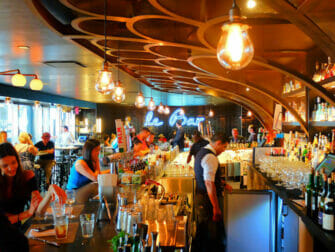 Gansevoort Market
Close to High Line Park and Meatpacking District you'll find Gansevoort Market. With its concrete floors and brick walls, it's a hip hot spot for New Yorkers and tourists alike. Multiple eateries have gathered under one roof and there are many options to choose from, from macarons and ice cream to lobster rolls and sushi. Gansevoort Market isn't cheap. Three sushi rolls will easily cost you 18 dollars and you'll pay up to 3 dollars for a macaron. Nevertheless, it's a nice spot for a snack or a cup of coffee on your way to one of Meatpacking District's landmarks. Find your favourite food stall, order some food and enjoy it sitting at the bar or at one of the many tables.
Eric's Tip: Gansevoort Market has moved to a new location and is now right around the corner from Chelsea Market. It's nice to check out when you're nearby, but I like Chelsea Market better as it's bigger and offers more choices.
Christmas Markets
There are a number of Christmas markets in New York, as part of the Christmas season. At the end of October or November, you'll already be able to visit a few but you'll get the best experience when all the Christmas lights decorate the city. This happens after Thanksgiving. Grand Central and Columbus Circle also have markets but the best ones are at Bryant Park and Union Square.
Union Square Christmas Market
The Union Square Christmas market is a great place to go to if you want to enjoy some Christmas snacks or mulled wine. There are over 200 stalls and its location in the middle of Manhattan makes it very accessible. You'll be able to find a lot of Christmas gifts at this market too. If you're lucky you might be able to see carollers as well, which will surely set the mood!
The Union Square Christmas market is open from the end of November until December 24th (closed on Thanksgiving).
Bryant Park Christmas Market
Go to the Bryant Park Christmas market if you really want to have the ultimate Christmas experience. You can go ice skating, drink hot chocolate, enjoy the quaint cottages and of course buy lots of Christmas ornaments. The park has an amazing atmosphere, you can easily spend a couple of hours here.
The Bryant Park Christmas Market is from the 30th of October 2020 through 3rd of January 2021.
Did you find this article useful? Let me know!