The Bronx Zoo in New York is the world's biggest zoo. It's located at Bronx Park, south of the New York Botanical Garden. I would recommend going there with children or for a romantic date. There is no way you will get bored there, ever. During the opening in 1899, this zoo was housing 843 animals. Nowadays that amount is close to 4,000, spread out over 285 acres. This group exists of about 600 species, amongst which quite a few are endangered.
Buy your Bronx Zoo tickets here
Bronx Zoo with Children
When you're wondering what to do in New York with kids. The Bronx Zoo is a very good choice. The special Children's Zoo is something you cannot skip when you visit the Bronx Zoo with kids. The Children's Zoo is like a mixture between a playground and a petting zoo, where children learn how to live or move like an animal, and where they can feed lambs or llamas. Also the Madagascar! part of Bronx Zoo will put smiles on their faces, especially with kids that know the movie. At Madagascar! you will not only find the animals that belong on the African island – you will find them in an environment that is a perfect imitation of their own surrounding.
Bronx Zoo in Winter
On days the weather isn't at your side, it's good to stroll around JungleWorld; an imitated Asian rainforest, including corresponding temperatures. Animals like otters, tapirs and gibbons all live in the same space here, just as in nature. Or visit the 4D cinema. The 4th dimension upon the HD 3D films that are showing consists of special effects like wind, mist, light and fragrance.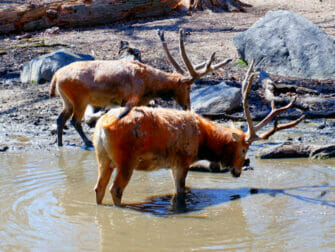 Visiting The Bronx Zoo
Coming from Manhattan, the quickest way to get to the zoo is to take express bus BxM11. For a quick hi/bye with the monkeys or a look at the penguins, keep in mind that you're allowed to enter the zoo until an hour before closing time. The Bronx Zoo opens at 10 a.m. and closes its doors between 4:30 and 5:30 p.m., depending on the season. That makes 6.5 to 7.5 hours a day, but don't get the illusion you'll be able to cover the whole park during one day. Even if you would stay all day, the park is almost too big to see it all. I would therefore recommend having a look at the map and plan your route.
Eric's Tip:
 The Bronx Zoo is so far away from Manhattan that you'd have to be a true zoo fanatic to spend such a big part of your trip at this zoo. If you just want to go there for the kids, consider getting
Central Park Zoo tickets
instead.
Practical Information
Location: 2300 Southern Boulevard, The Bronx
Opening hours:

27th March – 6th November 2021:

Mon – Fri: 10:00 to 17:00
Weekends & holidays: 10:00 to 17:30

7th November 2021 – March 2022:

Children under 3 visit for free
Buy your Bronx Zoo tickets here
The Bronx Zoo tickets are also included in the Sightseeing Flex Pass
Did you find this article useful? Let me know!